Asus plans to keep its Transformer Pad owners happy, and in this respect, the company decided to release the Android 4.3 Update. Surrounded by multiple rumors regarding the release date, Android 4.3 OTA update for Asus Transformer Pad was finally unveiled this morning. The update is only 273.17 MB, and it is actually pretty simple to install. For those Transformer Pad owners who own a mobile dock, the whole process takes about 10 minutes, but if you do not, it will take less time. For those who are interested in updating their devices to Android 4.3, just go to the System OTA menu.
In addition to the standard Android 4.3 features and enhancements, the update brings multiple other improvements and changes such as battery life improvements, trackpad responsiveness in dock, improve dock battery charging. However, keep in mind the fact that there are two different versions of Android 4.3 update available: one for the Taiwanese SKU and another one for the rest of the world. The last one is not yet available for download; therefore, users will have to wait a little bit longer in order to have access over the standard Android 4.3 OTA update.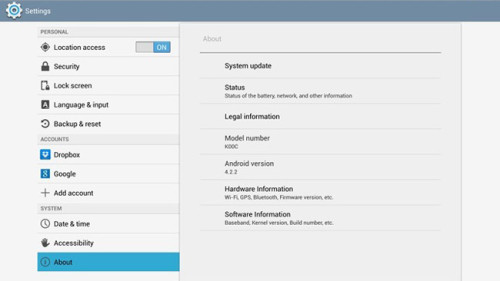 Back in September, Asus released the 10.1-inch Transformer Pad TF701T tablet, and it has become available for sale in late October. As expected for that particular period of time, the Asus tablet comes with Android 4.2.2 Jelly Bean. Now, after a month of waiting, Asus decided to update the mobile OS version up to Android 4.3 JB.
As far as Asus's tablet is concerned, the Transformer Pad comes with a 10.1-inch Ultra-high IPS display revealing a resolution of 2560 x 1600, it is powered by a Tegra 4 T40X quad-core processor with 1.9 GHz, and 2GB RAM. This powerful chip is combined with a 72-core GeForce GPU. In the same time, the tablet offers the possibility to take amazing photos using the 5 MP rear camera with f / 2.4 aperture or the 1.2 MP front-facing camera appropriate mostly for video calling. Moreover, this amazing tablet includes 32 GB internal storage, Wi-Fi feature, Bluetooth, micro HDMI port and a 31 Li-polymer battery.
If you want to check the software version on Asus Transformer Pad, all you have to do is to go to Settings > About Tablet > Build Number. Here, you will be able to something such as WW_epad-10.X.X.X_2012xxxx. The WW stands for the Worldwide SKU. After checking the software version, update your Asus Pad to Android 4.3 by downloading the new firmware and update the version of SOP manually.