Nova Launcher, the famous app, has received an update, and it has reached version 2.3. The well-awaited update offers plenty of features and changes, mostly for all those users who already run the latest Android version. However, this is nothing new especially since the first beta of the new launcher was released a month ago, soon after Nova Launcher's creator detailed the Android KitKat changes that the new updated app will empower.
The reported update is presented through a wide changelog, which includes various KitKat features, options and other goodies. For instance, the scroll indicator from KitKat has been added as well as the KitKat appearance in case of folders. For those who already tried out the update during its beta trial, this is not news. In fact, you have seen most of these features within Nova Launcher 2.3 beta version.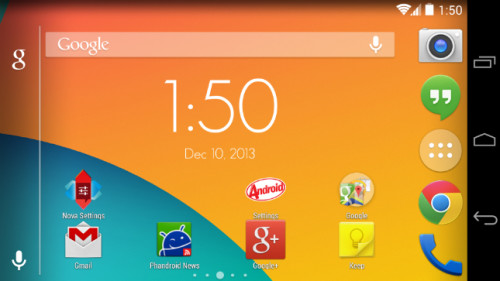 In this respect, the changelog suggests that Nova Launcher 2.3, the famous launcher will come with the already mentioned KitKat's feature including the scroll indicator and folders style. In the case of folders, users will be able to choose from two options: Light Background and Folders – Light Circle. Related to font, Nova Launcher will bring the look and feel of Android 4.4 with the Condensed Icon Font. However, this feature requires Android 4.1 and above.
With the new update, all handsets will receive the KitKat app drawer icon. In case you do not enjoy this feature, you can easily return to the old icon by long pressing the drawer icon and select the Edit option. The drawer will also have a configurable menu action, which will allow you to change multiple features such as autohiding tabs in app drawer.
Since most of these changes are meant to bring users the look and feel of Google's Android KitKat version, users will also have the possibility to enjoy the Icon theme that comes along with the update while experiencing a transparent Notification bar.
Related to the overall performance, along with the Nova Launcher update, you will be able to backup and restore from external SD card, for devices, which possess this capability. In the same time, the backup management is highly improved, and now, users will be able to send backups via Gmail, Pushbullet and more. As a bottom line, the 2.3 version brings multiple other fixes and optimizations.
What it is worth mentioning is that despite the fact that it comes with various KitKat features, the custom launcher will work only on devices running Android 4.0 or later. If you happen to be a fan of custom launchers and you hardly wait to try out the Android 4.4 on your smart device, then you will definitely want to grab this update.
Source: AndroidAuthority