Samsung seems to be opened to new color schemes for their latest flagship device, Galaxy S4. Beside the two standard colors, Blue Mist and White Frost, there was spotted a brand new color scheme named " Blue Arctic". It will be available only in Japan, at least in the immediate period of time, as DoCoMo, the Japanese mobile operator who announced this new color availability for Galaxy S4. According to our source  who specified that this will be for the only carrier who will sell Galaxy S4 with it's new color scheme Blue Arctic version among the two already classic black or white versions which are available worldwide. It is expected to see this new color at other carriers but shortly after the mid-May release date in Japan, the exact date will be announced by the Japanese carrier on May 15.
Even if this is a good news, we are expecting mode diversity from Samsung for the Galaxy S4 smartphone, and looking back at how they managed previously products regarding the colors, there is going to be a greater color availability in the near future, as it happened with Galaxy Note 2 and Galaxy S3. But a wiser decision will be to make available the 32 GB and 64 GB models on more markets as for now, the only US carrier who will be selling Galaxy S4 in 32 GB version is going to be AT&T.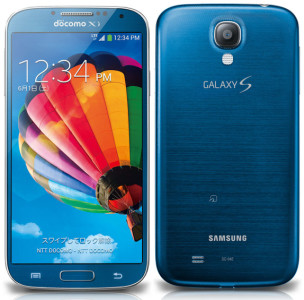 As for this model, we have to say that it is going to be the 16 GB ( with a huge chance of seeing the 32 GB version as well ) version powered by Qualcomm processor. Whether or not this color scheme is going to be present in other countries as well in the near future, we expect the other color schemes as well, and yes, Samsung, this is a progress, but it is way to slow!