For those of you who plan to buy a different smartphone and you consider Sony Xperia Z2 or the Samsung Galaxy Note 3 to be some great choices, within this article, I will provide you the details you need in order to make a decision. For example, you will be able to find information related to the release date, price, features, and options. This detailed comparison will definitely help you make the right decision based on your needs, financial status, and preferences.
Release Date
The Sony Xperia Z2 was first unveiled during Sony's MWC press conference on 14 February, and it is expected to get on shelves at the end of March. In this respect, Samsung Note 3 might be considered to be a little bit older since it was first unveiled in September and the phablet was ready to reach the public in October.
The Z2 handset comes five months after its predecessor was unveiled to the market. As a matter of fact, Sony Xperia Z1 was introduced almost at the same time as the Note 3. Samsung's phablet comes a year after the Note 2 was introduced. As a matter of fact, the original Galaxy Note dates way back in 2011, and it has caused a new revolution regarding the way in which smartphones are regarded. Besides the Galaxy S range, the Note Series is perhaps Samsung's most well-know line of products. Both of these devices are high-end handsets.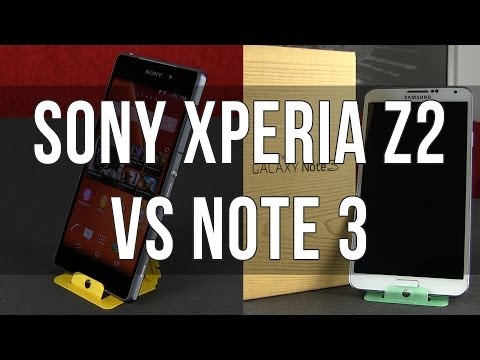 Display and Appearance
The Sony Xperia Z2 comes with a 5.2-inch IPS LCD display while Samsung's phablet reaches a 5.7-inch Super AMOLED display. After all, its large display has determined people to call it a phablet rather than a regular smartphone.
The first one renders a 1080 x 1920 pixels resolution the same display resolution as its competitor. Therefore, if you are eager to have a great perspective of the things on the screen, then, the same resolution might complicate things for you since they are both capable of offering an impressive touchscreen experience with an incredible robust color, contrast and brightness.
Regarding the overall appearance, Sony Xperia Z2 offers a slightly slimmer design by measuring just 8.2 mm thick with 146.8 x 73.3 dimensions while weighing 163 grams. On the other hand, the Samsung Galaxy Note 2 comes with larger dimensions and namely 151.2 x 79.2 x 8.3 mm and it weighs 168 mm. The differences are not that notable, especially if you take into consideration the 5.7-inch display.

Operating System and UI
The Sony Xperia Z2 comes out of the box running Android KitKat operating system due to its late release date. In what concerns Samsung's Note 3 runs on the Android Jelly Bean operating system, which may be easily upgraded, to the KitKat version, in case the user wants.
As expected from a Samsung handset, Note 3's TouchWiz UI is actually user-friendly with different UI elements that are common to this manufacturer. In fact, when dealing with the Note 3 phablet, users will be able to see a liberal sprinkling of green instead of the stock Android blue. However, for those of you who want to continue with standard Android style, you are free to opt for a stock Android launcher. Now, related to the Sony Xperia's UI, users accustomed with the Sony's personal user-interface, will see that there are not many different things. As a matter of fact, combined with the Android's features, it will be more than easy to deal with Z2.
Processor and Memory
The Sony Xperia Z2 is powered by a 2.3 GHz quad core krait 400 processor and Qualcomm MSM8974AB Snapdragon 801 chipset, pretty much the same as the Samsung Note 3, which has the same 2.3 GHz quad core krait 400 processor but a relatively smaller Qualcomm Snapdragon 800 chipset. It is worth mentioning the fact that both of these amazing devices offer 3GB of RAM memory. As well, the graphics processor is Adreno 330 in both of cases.
Regarding the internal memory aspect, while the Note 3 comes with three different options and namely 16 GB, 32 GB and 64 GB, Sony offers an initial internal storage of 16 GB. This storage space can be easily expanded up to 64 GB using a Micro SD card. The MicroSD card comes also in case the Note 3 phablet allowing users who already purchased a device with a low level of storage to increase it using the MicroSD card.
Camera Feature
I know that the camera feature might be regarded as the most important aspect by many of you, especially those who enjoy taking as many pictures as you can. In this case, it is natural to ask for an improved camera performance from your future device. For this reason, the Sony Xperia Z2 sports a 20.7 MP primary camera, which can take amazing photos for your and your friends.
Related to this aspect, we might regard the Note 3 phablet to be a little bit low-end because it sports only 13 MB primary camera. However, compared to other similar devices available on the market, we might assume that the 13 MB camera might be a huge advantage. In what concerns the secondary camera, Z2's camera is a little bit over the Note 3 since the first one offers a 2.2 MP while the Note 3 provides only 2 MB on the second camera.
As a matter of fact, both of these devices provide plenty of interesting and attractive features. For example, with a Sony Xperia Z2, you will get CMOS image sensor, Autofocus, Touch to focus, Digital image stabilization, Face detection, White balance presets, Burst mode, Digital zoom, Geo tagging, high dynamic range mode (HDR), Panorama, and multiple interactive effects. In the same time, the Note 3 provides multiple of these features while adding a back-illuminated sensor (BSI) Touch to focus property and a self-timer.
In what concerns the recording aspect, the Xperia Z2, as well as the Note 3, brings the innovative ability to record 4k videos due to resolution four times that of the full HD 3840 x 2160 resolution provides by many high-end handsets.
Battery
The Sony Xperia Z2 comes with a non-removable Li-Ion 3200 mAh battery, which allows users a talking time of about 19 hours on 3G. On the other hand, the Samsung Galaxy Note 3 comes also with a Li-Ion 3200 mAh battery, which will provide users a talking time of about 21 hours on 3G. This is quite impressive, especially when we consider their large displays and the wide array of smart features.
When left in stand-by, the Sony Xperia Z2 will provide a longer period of use since it will be on for more than 28 days, meaning 690 hours while the Note 3 will be turned on only for 22 days, around 528 hours. A stand-by status in 3G will offer a running Xperia Z2 for around 30 days while in the case of Note 3, the time is considerably low, and it reached only 17.5 days of stand-by.
Other Features
As you may imagine, these devices have many other interesting features and options. For example, in the case of notifications, both of them offer Haptic feedback, music ringtones, polyphonic ringtones, Vibration, Flight mode, Silent mode and Speakerphone. As far as the sensors are concerns, both devices provide Accelerometer and company, but the Note 3 also brings a Gyroscope, Thermometer, Gesture, Humidity and a Barometer feature.
In the same time, when purchasing any of these two amazing devices, you will get voice dialing, voice commands, and voice recording features while the Note 3 will also bring TTY and TDD. It is worth mentioning the fact that the Xperia Z2 gives the possibility of using the navigation while Samsung's Note 3 will offer turn-by-turn navigation.
Price and Availability
In terms of availability, since it is not officially released, the Sony Xperia Z2 is expected to hit the shelves of O2, EE, Three, Vodafone, Carphone Warehouse, and Phones 4U since all of the mentioned carriers already announced they would be selling the device. Regarding the price, the Sony Xperia Z2 4G LTE variant is prices at around $899.95. In USA, the device will be available at T-Mobile exclusive for $599 on a 24-month commitment ($25/mo).
The Samsung Galaxy Note 3 is available for purchase worldwide at most carriers and official shops, its price depending on the carrier plan you choose. However, as a standard price, the Note 3 16 GB 4G LTE variant is priced at around $672.95 while the 32 GB 4G LTE variant is priced at around $699.99.
Conclusion
As a bottom line, if you decide to purchase one of these two devices, I am sure that, now, you know exactly what to look for. However, there are only few notable differences between them, especially if we consider the internal components where both of them are powered by the same processor, and they offer the same internal storage and RAM memory. In this aspect, we might call it a draw.
Now, related to the camera feature, if you want to improve your photography abilities, then you might want to focus on the Xperia Z2 and its 20 MP camera, which will definitely render some professional photos, along with all those great features and effects. As you can see, each one of these impressive Android smartphones have their own strong and weak points, and it is up to you to decide which one is more suitable for your own needs.