Last year's top chipset was the Qualcomm Snapdragon 800. The respective processor has powered plenty of smart devices, and it continues to do the same job. However, this year's top processor will definitely be its successor, and namely the Snapdragon 805. Along with CES, one of the most awaited technology events of the year, plenty of products, services, and devices were unveiled.
As the new reports indicate, the first devices powered by the Qualcomm's latest Snapdragon 805 processor should be expected in the first half of the year, more precisely in May, which is earlier than anticipated. The company recently announced their latest flagship processor, which will be available for most devices, however, they did not specify any partners, or actual device launch dates.
This good news is actually meant for only a couple devices. However, as expected, Samsung will definitely employ the powerful processor for its next flagships such as Galaxy S5 and Galaxy Note 3. Other manufacturers will use the Snapdragon 805 process for devices such as LG G3, Nexus 6, Sony Z2, an HTC smartphone and many other ones.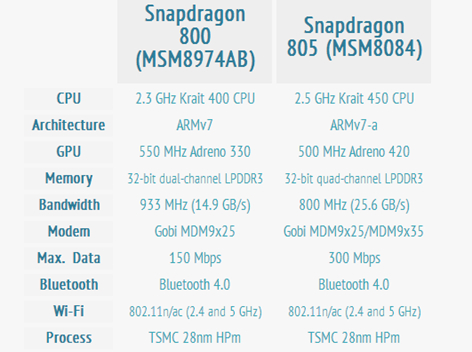 The chipset will mark an increase in the hardware part of smart devices and it will deliver increased performance levels, due to the increased frequency of its cores, new graphics and more. In the same time, the CPU will provide increased bandwidth, with support for up to 25.6GB/s while offering more than 40 percent better performance capabilities, when compared to the previous Snapdragon 800 processor. Snapdragon 805 chipset will bring multiple new options and features while offering possibilities towards the encoding and decoding of 4K vides on mobiles.
As it was mentioned above, the alleged chipset is expected to be launched in May, along with some powerful flagships and smart devices. It is worth mentioning the fact that this report was unveiled in a leak coming from Qualcomm itself. If you want to see the differences between the future Qualcomm flagship Snapdragon 805 chip and the previous 800 processor, check the picture inserted above.
Source: AndroidAuthority