Best Android Apps for People with Vision Problems
When it comes to blind people or those with poor vision, it's clear that Android devices are opening up a whole new world. Let me assure you of the fact that there are various innovative and entertaining apps available to the vision impaired too. In fact, with the aid of a phone, they can now enjoy a life as normal as possible.
Best Android Apps for People with Vision Problems:
Magnify
Do you want to turn your Android phone into an instant digital magnifying glass equipped with a flashlight? Magnify is an app that helps users see better by using their device. The app is great for reading tiny print, so use it in all those cases when you don't want to put on your glasses.
You can use the app at home or in restaurants, in movie theaters or other places with little light. For the app to work, you must keep your Android phone at a distance of at least 4 inches from an object. There are controls to enhance focus and you can manually turn the flashlight on or off to save battery. And you will be surprised to discover that the app also supports basic gestures onscreen such as double-tap to zoom in or out, single tap to focus, and long-press for turning the light on or off.
Enter here to download the app.
Voice Dream Reader
Are you looking for an app to use for reading on a tablet or large smartphone? Voice Dream Reader has been recently made available for Android as well, so you don't even know what you may enjoy! Voice Dream Reader will open a wide variety of book formats and files, including the DAISY files from Bookshare, E-Pub, Word, PDF, along with the regular Web pages.
If you have a subscription to Bookshare already, all you have to do is to enter your username and password the first time you wish to add a book from Bookshare. After that, feel free to download books and magazine from Bookshare directly through Voice Dream Reader.
Some of the best included features are the fact that the text automatically wraps to eliminate scrolling left to right, you get multiple text options available such as font type, spacing between lines or font size up to 90, Text-to-speech reading, Text highlighting, and more, so you must give a try!
Take Voice Dream Reader from here.
RAY
Visually impaired persons definitely need a simplified smartphone experience. That is why I think that the RAY app is the best at this chapter as it successfully creates a new way of smartphone navigation. To be more precise, the RAY navigation fits the screen to the user's touch, re-positioning the menu around the user, making discovery easier than ever.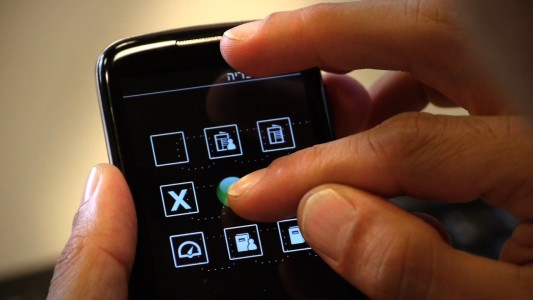 Replacing the traditional click interaction with simple touch and directional swipe gestures is not all that the app can do, but RAY also provides voice operated features such as making calls, call history, read out of names and numbers of incoming calls, not to mention the voice operated messaging service including SMS, Email and Whatsapp.
You can also enjoy the Online Audio Books and Magazine Subscription in order to download audio content and the list continues with GPS Navigation, color identification, time and alarm clock applications, scheduling, Voice recorder and much, much more.
Do you also want to communicate and enjoy your smartphone with simple touch and swipe gestures in no time? Take Ray from here.
Also read this guide on How to Prevent Eye Strain when using Android Smartphones