Galaxy S4 vs iPhone 5s: Bad vs Evil
In this article I will put face to face these two representative smartphones of the year 2013 for both Samsung and Apple. Although the Galaxy S4 has arrived in the late April of this year, while Apple released its iPhone 5s 5 months later, it is still a fair comparison between the two of them.  Of course, best resources at hand were used for this two smartphones, but is the fact that there were 5 months time in between their releases an advantage for Apple? I mean, in the time that passed, there surely had to be some updates and upgrades. There is to be noted that I will analyze the Samsung I9500 Galaxy S4 and Apple iPhone 5s.
First, let's look at their features on paper and try to make an impression of our own. Starting with the hardware, the guys from Samsung put under the smartphone's shell a 16/32/64 GB storage capacity accompanied by a microSD card slot (which can add up to 64GB to its initial storage value), 2GB of RAM and a Quad-core 1.6 GHz Cortex-A15/Quad-core 1.2 GHz Cortex-A7 CPU to do all the hard work.
Apple instead have chosen to implant a same amount of internal storage (16/32/64 GB), but the device doesn't have a card slot (therefore no additional memory for our use) and only 1GB or RAM (DDR3 technology). They opted for a dual-core 1GHz Cortex-A9 CPU. So that would give the Samsung device a slight advantage both in 'brute memory' and power to process information.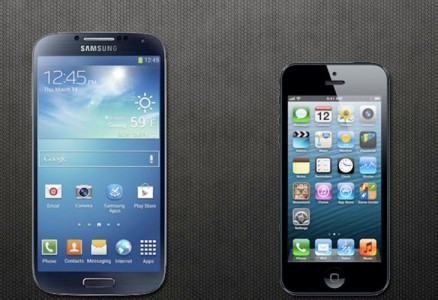 Looking at the display of the two smartphones, the only notable difference would be their size. We are already used with Super AMOLED capacitive touchscreen used on Samsung Galaxy S4 for their devices, as well as Apple has kept using their LED-backlit IPS LCD capacitive touchscreen on their iPhone 5s, both able to generate 16M colors. So the difference is made by their size: the Galaxy S4 uses a 5.0 inch touchscreen, slightly larger than the iPhone's 4.0 inch. Both screens are equipped with a protection guaranteed of the Corning Gorilla Glass technology to prevent as scratching and/or breaking as much as possible. I can't really state an objective opinion on this one, since each of us has their preferences about the size of a phone, highly influenced by how and what the user wants his/hers smartphone for. But if that matters, I vote for Samsung on this one too.
Moving on to other features, the Samsung comes, again, first in the matter of sensors equipped just by having more: accelerometer, gyro, proximity, compass, barometer, temperature, humidity and gesture sensors all contained in the same smartphone. The Apple's device is only equipped with accelerometer, gyro, proximity and compass sensors. A little bit of more sense of orientation for Galaxy S4 users, but that's all. There is something that the Apple device can be fond of: the fingerprint sensor. Who considers those features not needed won't bat on eye on that.
Of course, both of them have MP3, WAV ringtones and Vibrations, as well as loudspeakers and the standard 3.4 mm jack. Wi-fi (802.11 a/b/g/n/ac, dual-band), and the ability to be a wi-fi spot are also included. The same goes for the Bluetooth feature, both of them being equipped with v4.0 with A2DP version and none of them seem to have Radio.
Probably the most wanted thing, the camera and the capture quality, won't let us down while we look at the two devices. The Galaxy S4 has a beautiful 13MP camera, 4128×3096 pixels resolution with autofocus and LED flash. With dual shot, Simultaneous HD video and image recording, geo-tagging, touch focus, face and smile detection, image stabilization, video calls are to be of exceptional clarity.
At the end of the hardware analyze, I would say that the bigger, the gifted. Galaxy's bigger size (136.6 x 69.8 x 7.9 mm or 5.38 x 2.75 x 0.31 in ) and therefore weight (130g or 4.59 oz) give the smartphone the space to contain all those bonus features, by comparison with iPhone's 123.8 x 58.6 x 7.6 mm (4.87 x 2.31 x 0.30 in) and 112 g (3.95 oz).
Next I will stop by and look at the software characteristics. Samsung chose their Android OS, v4.2.2 (jelly Bean) version to be more specific, while Apple went with their iOS 5, which is upgradable to iOS 7.0. Samsung infuses the best and the strongest OS they have, which means that there will be lots of new and special applications can be used on this smartphone. They imbued the latest technology they have in this smartphone. On the other hand, Apple is using a fine, but modest (in comparison) OS which grants the user access to a few packs of new and cool features. The comparison of these two operating systems is a large topic, so I won't analyze it here (although it is an interesting discussion). In terms of 'life spawn', the Samsung's device removable battery (2 600 mAh) is more powerful and it's rated to 17 hours of talk/G3, 15.4 days stand by activity and around 10 hours of browsing/Wi-fi usage. On the other side, the non-removable and smaller battery of the iPhone 5s is rated for only 10 hours of talk/3G, 10.4 days standby and around 10 hours browsing/Wi-Fi.
The biggest disadvantage that Galaxy S4 has is the design. We all know how important are the looks in the Apple's point of view. And that seems to be their strongest point. While the iPhone has such a beautiful design, with its aluminum shell, the curved edges and the magnificent sapphire crystal home button, the other one is only made of plastic. Of course, the colxors vary, but it is obvious who puts more effort for gaining the visual appreciation.
If I have to describe this comparison in few words, those would be bigger, better equipped, longer life, blunt vs smaller, poorer equipped, weaker, cuter.